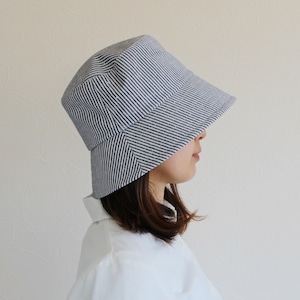 バケットハット縞かすり
上品で清涼感が漂うストライプのバケットハット。
シンプルなかたちで老若男女問わないアイテムとなっており、目深に被ることで小顔効果も期待できます。

通気性の良いサラッとした絣の生地は、これからの季節にピッタリ。被り心地は快適です。
共地でつくったあご紐は、取り外しもできるのでコーデの幅も広がりますよ。


・フリーサイズ(サイズ調整ベルト付き)
・あご紐付き(取外し可)
・綿100%
*Earliest delivery date is 4/4(Tue) (may require more days depending on delivery address).
*Tax included.
*Limit of 1 per order.
*Additional shipping charges may apply, See detail..

About shipping fees
The shipping fee for this item varies by the shipping method.
佐川急便

毎週月曜までのご注文を水曜のみの出荷。祝日・年休の場合休み明け出荷となります。

Regional setting
*Japan domestic shipping fees for purchases over ¥50,000 will be free.